New Pastures Home was established in 2019 by partners Dean Carbin & Hywel Jones. Based in Newport & Gloucestershire, the business was born from a desire to enhance the uniqueness and originality of people's homes, through the medium of visual art, crystals and a vast array of uplifting and invigorating scents.
Having always been lovers of crystals, candles and scents, Hywel & Dean began to experiment with a range of fragrance blends whilst based in the Middle-East. It was this, accompanied with the wish to avoid harmul chemicals and steer towards natural alternatives, that kickstarted them onto their journey of making pure soy wax candles.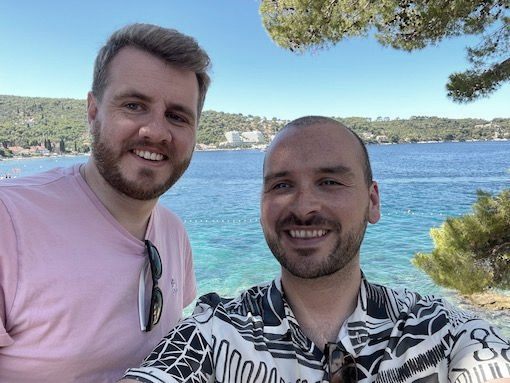 Dean: 'The process of finding the perfect scent blends and the right soy wax and wick combinations proved to be very challenging, but something that I loved. Our apartment enjoyed a different fragrance every day! Many believe that candle-making is simple. I can vouch for the fact that it definitely is not! It took us a whole two years of product testing and development to discover the winning formula and produce a candle range that we are proud of and know that our customers will love.'
Alongside the scented homeware products, resident-artist, Hywel, creates large-scale abstract artwork. His current body of work explores the process of layering and removing paint, to produce striking compositions. Hywel's bold use of colour and expressive style creates a clear aesthetic that elevates both residential and commercial spaces.
Hywel & Dean are both proud to be residents of Newport and love the community they are building within their shop in Commercial Street, Newport, and would like to thank everyone for their continued support!